Why Sandfly?
Why You Need Sandfly Security for Your Linux Systems
Linux runs the Internet. Most e-commerce, web and cloud workloads are all Linux based and Linux is also used extensively to host critical infrastructure including network controllers, smart devices, Industrial Control Systems (ICS), healthcare, robotics and many more.
Yet, one of the biggest issues facing Linux security is the inability to get rapid and complete visibility across the entire spectrum of these applications. Agent-based solutions can cause system instability, performance, compatibility, and other problems preventing deployment. As a result, Linux systems end up with spotty security monitoring and this can lead to undetected breaches that can disrupt operations and expose sensitive data. Sandfly fixes these problems with an agentless approach that has little risk compared traditional agent-based solutions.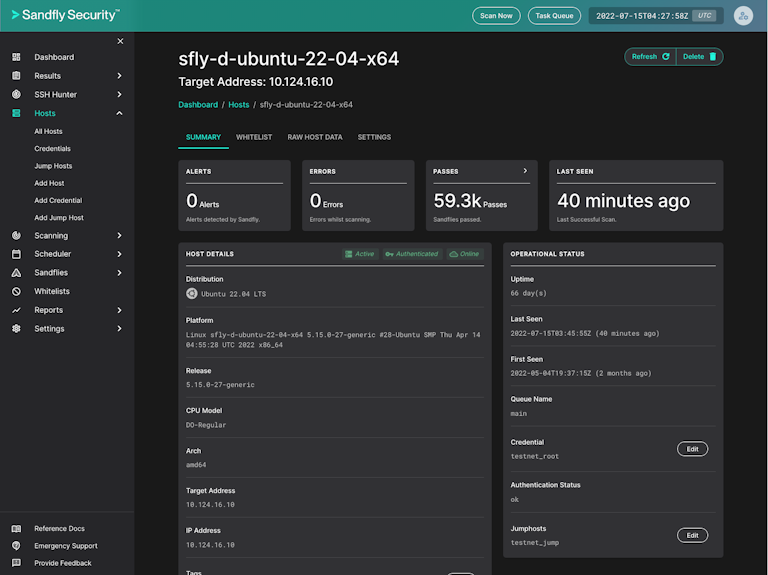 Agentless Efficiencies
Sandfly is agentless. Loading agents on endpoints is a reliability and maintenance hassle. Agents often hook into the kernel and cause instability, compatibility, and performance issues—particularly when those systems are updated. Sandfly is agentless and uses small investigation engines (called sandflies) to hunt for hackers and malware on Linux without loading any software on your endpoints.
Because it is agentless, Sandfly's detection can be turned on in seconds and won't impact performance or reliability of your Linux systems. Sandfly can in fact improve performance by providing visibility into previously unknown activities that are impacting operations.
Key Benefits
Sandfly's agentless security platform amplifies your team's effectiveness by automatically hunting for Linux threats 24 hours a day. Sandfly bolsters your team's readiness and knowledge with response and remediation advice to improve overall security of your Linux boxes. Sandfly is also accurate which reduces noise and false positives for administrators, saving valuable time by pointing them to attacks that require their attention.
Sandfly's security platform deploys quickly because there is no need to install agents or other software on your Linux endpoints. While Sandfly comes pre-loaded with over 1,100 threat detection modules, security teams can customize their own detection and threat hunting modules, then immediately deploy them across their Linux fleet.
Because it is agentless, Sandfly leaves no footprint for attackers to detect and evade. Scans and search criteria are also set to run randomly in order to further avoid detection by attackers.
Reduce intruder dwell time from months and years to just minutes with Sandfly. Sandfly discovers Linux compromises early so you can respond in a targeted and deliberate way. Dealing with new Linux threats, or cleaning up an incident, has never been easier.