Why Sandfly?
Linux Runs the Infrastructure - Protect It
Linux lies at the heart of many applications, ranging from e-commerce to critical infrastructure. Traditional agent-based security solutions can lead to inconsistent monitoring and undetected breaches because they are not be widely deployable. In contrast, Sandfly's agentless approach actively searches for intruders without the need for deploying agents, offering enhanced visibility throughout the infrastructure.
Sandfly offers the most comprehensive coverage for Linux, even in challenging scenarios like embedded devices and custom hardware. Beyond detecting typical Linux attacks, Sandfly also incorporates advanced features such as SSH key tracking and password auditing, helping prevent breaches from occurring in the first place.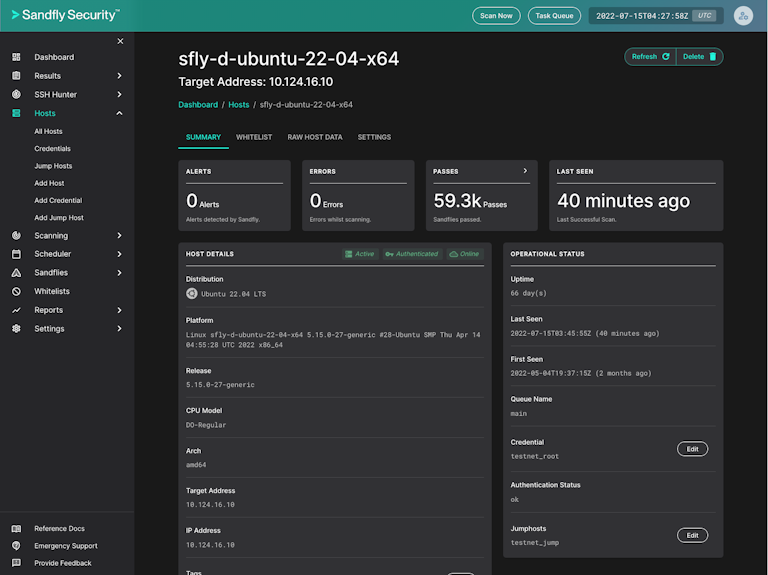 Agentless Efficiencies
Sandfly is agentless. Loading agents on endpoints is a reliability and maintenance hassle. Agents often hook into the kernel and cause instability, compatibility, and performance issues—particularly when those systems are updated. Sandfly is designed to actively hunt for hackers and malware on Linux without causing any stability or performance impacts.
Because it is agentless, Sandfly's detection can be turned on in seconds and won't impact performance or reliability of your Linux infrastructure. Sandfly can often access and provide instant visibility into Linux hosts that traditional approaches often cannot monitor, such as embedded devices and appliances.
Key Benefits
With the widest Linux coverage available anywhere, Sandfly's accurate threat detection hunts for intruders while giving you visibility into areas that have been previously unmonitored and are often subject to attack. Sandfly gives instant visibility across virtually all versions of Linux whether in the cloud, on-prem, or blackbox embedded devices.
Sandfly's security platform deploys quickly because there is no need to install agents or other software on your Linux endpoints. While Sandfly comes pre-loaded with over 1,200 threat detection modules, security teams can customize their own threat hunting methods and immediately deploy them across their Linux fleet.
Because it is agentless, Sandfly leaves no footprint for attackers to detect and evade. Scans and search criteria are also set to run randomly in order to further avoid detection by attackers.
Sandfly does not send customer data off-site for analysis or processing. Customer data remains with their network. Sandfly works on air-gapped networks as well as those in the cloud. In all cases, no data is ever sent to a third-party.