Why Sandfly?
Why You Need Sandfly Security for Your Linux Systems
Linux is at the core of numerous applications, from e-commerce and web services to critical infrastructure. Traditional agent-based security solutions often result in inconsistent monitoring and undiscovered breaches. Sandfly's agentless approach overcomes these obstacles by actively hunting for intruders without deploying agents. If you already use a Linux agent-based EDR, Sandfly can work alongside them and provide wider detection of attacks with additional features such as SSH key tracking and password auditing.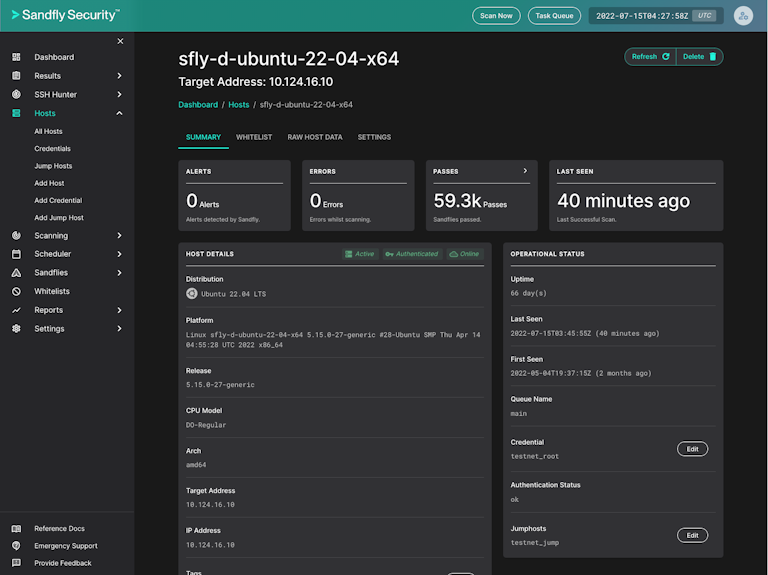 Agentless Efficiencies
Sandfly is agentless. Loading agents on endpoints is a reliability and maintenance hassle. Agents often hook into the kernel and cause instability, compatibility, and performance issues—particularly when those systems are updated. Sandfly is agentless and uses small investigation engines (called sandflies) to hunt for hackers and malware on Linux without loading any software on your endpoints.
Because it is agentless, Sandfly's detection can be turned on in seconds and won't impact performance or reliability of your Linux systems. Sandfly can also work alongside traditional EDR agents and provide automated threat hunting often finding signs of attacks that have gone unnoticed.
Key Benefits
Strengthen your team's effectiveness using Sandfly's agentless security platform, which continually seeks out Linux threats. Sandfly's accurate threat detection reduces false positives, enabling administrators to prioritize genuine attacks that need their attention.
Sandfly's security platform deploys quickly because there is no need to install agents or other software on your Linux endpoints. While Sandfly comes pre-loaded with over 1,100 threat detection modules, security teams can customize their own detection and threat hunting modules, then immediately deploy them across their Linux fleet.
Because it is agentless, Sandfly leaves no footprint for attackers to detect and evade. Scans and search criteria are also set to run randomly in order to further avoid detection by attackers.
Sandfly does not send your data off-site for analysis or processing. Your data remains with your network. Sandfly works on air-gapped networks as well as those in the cloud. In all cases, no customer data is ever sent to a third-party.