Linux Threats Detected
Detecting Conventional and Unconventional Threats on Linux
Keeping your Linux infrastructure secure is a top priority, but constantly updating signatures can be a frustrating and time-consuming task. Sandfly's approach is different - we focus on the underlying tactics of an attack, giving you unmatched threat coverage that never goes out of date. By disrupting tactics, Sandfly is able to find new and evasive attacks that can be missed with traditional approaches.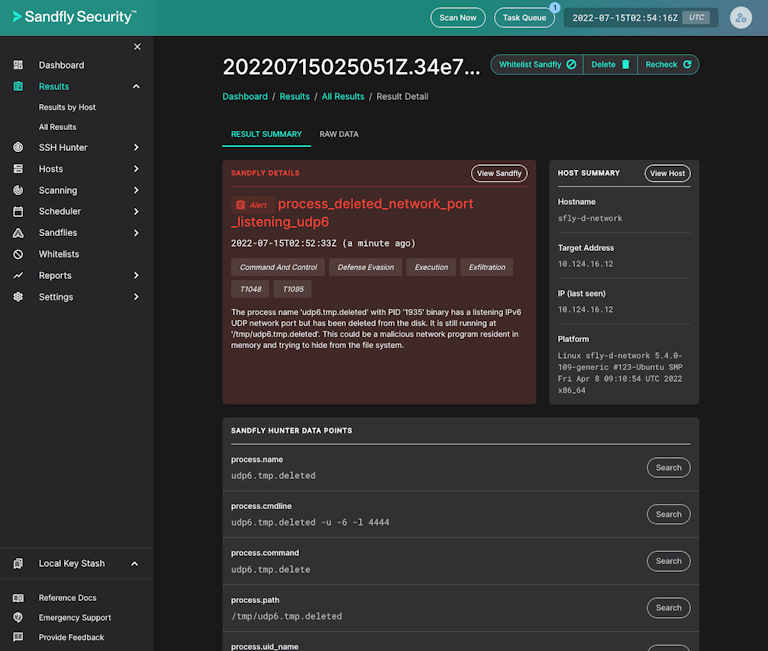 Modular Intrusion Detection and Response
Our agentless Linux security platform sets the bar for threat hunting with its unique approach. Our modular system means that we're constantly adding more detection methods to enhance our capability, so you can rest assured that your infrastructure is always secure.
With Sandfly, you can customize your own threat hunting checks in an easy-to-learn syntax, allowing you to tailor your security measures to your unique needs. Our platform is a powerful tool for security and incident response teams, providing specific information on intruders and allowing teams to deploy a virtual expert Linux forensic investigator instantly
We currently have over 1,200 detection modules, and the list grows each day. Our platform is designed specifically for Linux, so you can be confident that we're hunting for the threats that matter most. Below are just some of the threats we're constantly on the lookout for with Sandfly.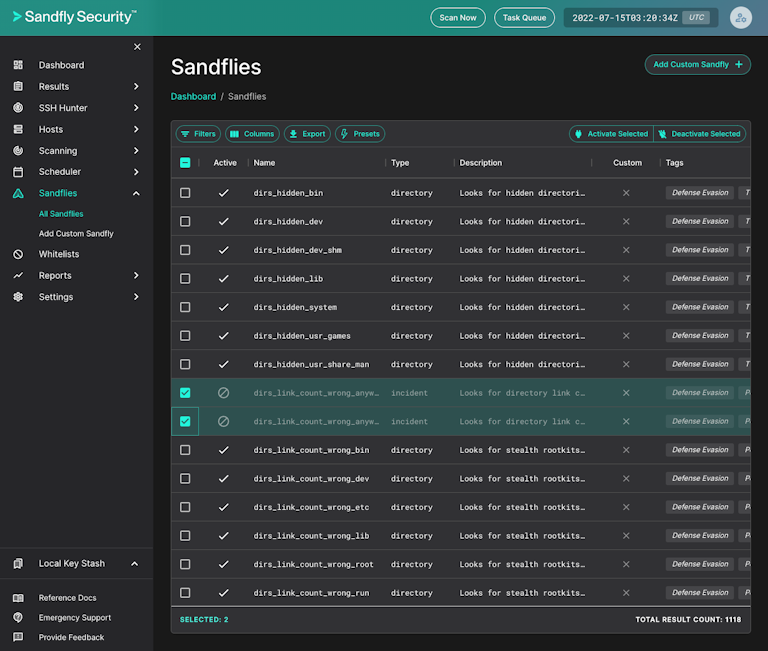 Linux Intrusion, Compromise & Malware Threats Detected
Loadable Kernel Module and eBPF stealth rootkit detection

Standard rootkit detection

Cryptocurrency and cryptominer detection

Weak and default Linux user passwords

Hidden and suspicious processes

Processes performing suspicious network activity

Process masquerading

File masquerading and hiding

Poisoned system commands

Cloaked data from stealth rootkits

Tampered system start-up scripts

Encrypted and suspicious executable files

Unusual system binaries

Suspicious users and permissions

Hidden executables

System shells being used or concealed in suspicious ways

Process injection
Reverse bindshell exploits

Standard bindshell exploits

Compromised websites

Tampered audit records

Destroyed audit records

Webshells and backdoors

Anti-forensics activity

Cloaked backdoors

Privilege escalation backdoors

Malware persistence mechanisms

SSH keys being misused or orphaned

Suspicious user login and logout activities

Suspicious cron job and other scheduled tasks

Linux malware and Advanced Persistent Threat activity

Distributed Denial of Service (DDoS) agents

Password and network sniffers

Many others!